latest articles
Short Report
Prevalence of GJB2 and TECTA gene mutations in children with non-syndromic hearing loss visiting an Otorhino-laryngology Hospital in Ho Chi Minh City, Viet Nam
by Vu Hoang P., T., Ngo M., X., Tran Q., M., L., Nguyen T., V., Do H., G., Nguyen T., V., Nguyen A., T., H., Do Thi T., H., Huynh Thi D., H., Tran Phan C. T.

Summary: Non-syndromic hearing loss (NSHL) in children, which has numerous causes, can impede or even postpone the acquisition of spoken language. In Viet Nam, screening programs and genetic testing for NSHL are rarely applied. In this study, 31 pediatric patients had their medical histories collected alongside sequencing results for the GJB2 and TECTA genes to determine the prevalence of these mutations in the community and their associations with potential risk factors.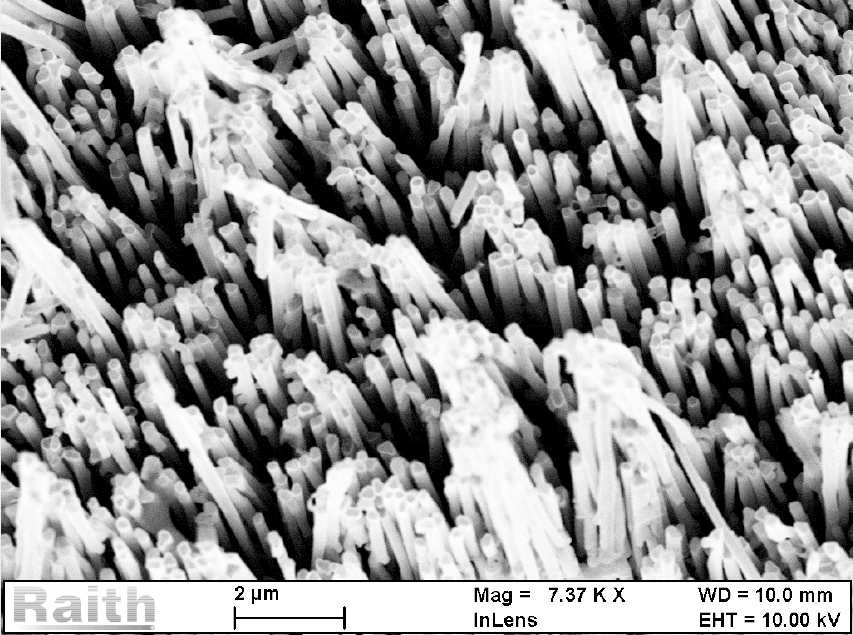 Review
Magnetic Nanomaterials: Advanced Tools for Cartilage Extracellular Matrix Regeneration
by Herea D., Labusca L.

Summary: After decades of basic, translational, and clinical research, cartilage regeneration therapies are still anticipated to impact the clinical landscape consistently. However, biological joint resurfacing and the regeneration of functional, integrated cartilage capable of wholly and permanently restoring joint function is still unavailable. Albeit structurally relatively simple, the cartilage extracellular matrix has a complex function in joint organ biomechanics, developmental processes, and adult life tissue turnover, repair, disease, and aging. The intricated cross-talk extracellular matrix-cellular component and its bidirectional role in maintaining tissue homeostasis are only beginning to be elucidated. Magnetic responsive nanomaterials (MNMs) have proven to be versatile tools for drug delivery, scaffold fabrication, alignment, and orienting cell distribution and cell fate. Due to their responsiveness to an applied magnetic field, MNMs can be remotely actuated for scaffold cell positioning, scaffold fabrication, or the delivery of touchless mechanical stimulation. In addition, MNMs possess excellent biocompatibility and are degradable through cellular iron storage metabolic pathways. Current directions for using MNMs to augment tissue engineering that recommends them as essential tools for fabricating bio-functional cartilage grafts are presented and discussed.
Methodology
A Protocol for the Optimization of Lateral Flow Immunoassay Strip Development
by Duong N.,-D., Nguyen-Phuoc K.,-H., Do K.,-Y., Mai-Hoang T.,-D., Nguyen N.,-T., Tran T., Tran-Van H.

Summary: Lateral flow immunoassay (LFIA) is a well-known method because of its extensive application in many fields, such as medical, food safety, and environmental analysis. LFIA is also under development for pathogen or protein detection, where rapid detection is essential. However, there are few studies on the optimal process for LFIA production.
Original Research
Effectiveness of Combined Application of Cryosurgical Method and Local Ozone Therapy in Patients with Oral Leukoplakia
by Darenskaya M., Tokmakova S., Bondarenko O., Ziablitskaia K., Lunitsyna Y., Mokrenko E., Goncharov I., Gaidarova T., Klyushnikov O., Suslikova M., Kolesnikova L., Darenskaya K., Sinyova Y.

Summary: The physical and chemical properties and biological effects of ozone that determine bactericidal, anti-inflammatory, antioxidant and immunocorrective effects are a direct prerequisite for the use of ozone therapy in the postoperative period of treatment of oral leukoplakia. This study aimed to establish the effectiveness of the combined use of cryosurgery and local ozone therapy in the complex treatment of patients with oral mucosa leukoplakia.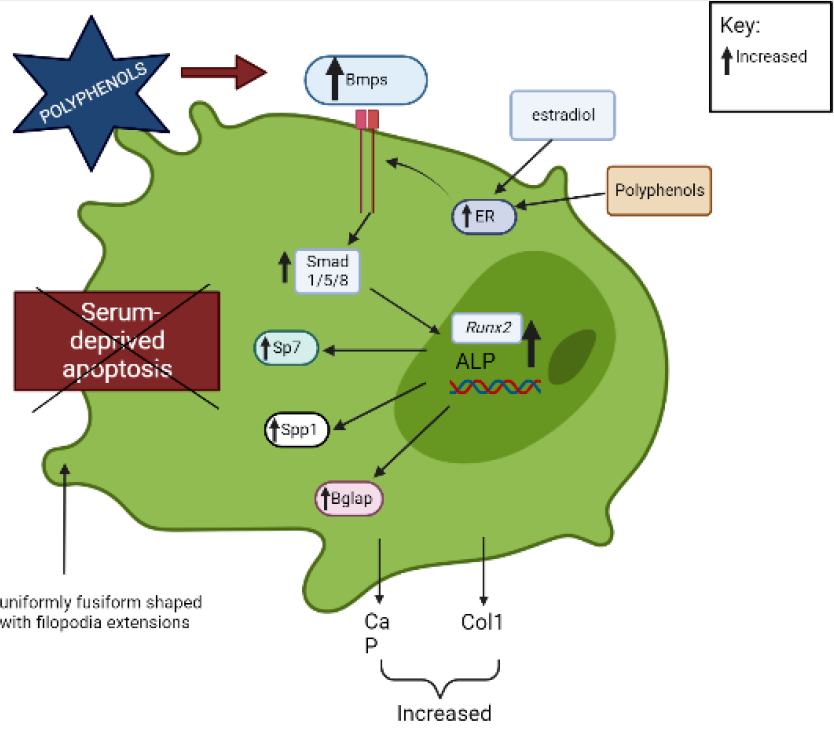 Review
Potential Effects of Polyphenols on Osteoblast and Osteoclast Culture
by Azizul N., Hapidin H., Abdullah H., Azlan M., Ahmad A., Soelaiman I.

Summary: Bone tissue undergoes constant remodeling by reducing the accumulation of bone damage and retaining the mechanical strength of bones to sustain both structural integrity and bone density. There are two main specialized cells involved in the bone-remodeling process, osteoblasts (OBs) and osteoclasts (OCs), which are responsible for new bone formation and aged bone resorption, respectively. The proper balancing act between bone resorption by OCs and bone deposition by OBs is essential for the active and dynamic process of bone remodeling. Polyphenols are a group of phytochemicals that are found in plants. Due to their bioactive components, like flavonoids, phenolic acids, and stilbenes, medicinal plants have long been pursued in the drug development process. Many medicinal plant extracts have been found to improve bone health. To provide more applicable preclinical research results, scientists have concentrated on developing in vitro models of bone cells by utilizing cell lines or primary cells. However, OBs and OCs do not act independently of one another, and various communication pathways between them have been discovered. This review summarizes the relevant data from existing studies on the effects of polyphenols on OBs and OCs using monocultures; these studies can be further enriched using co-culture, which represents an experimental system closer to the in vivo conditions than monoculture, allowing realistic cell– cell interactions. This information will be valuable for the development of new pharmaceutical and nutraceutical agents to treat and manage bone diseases.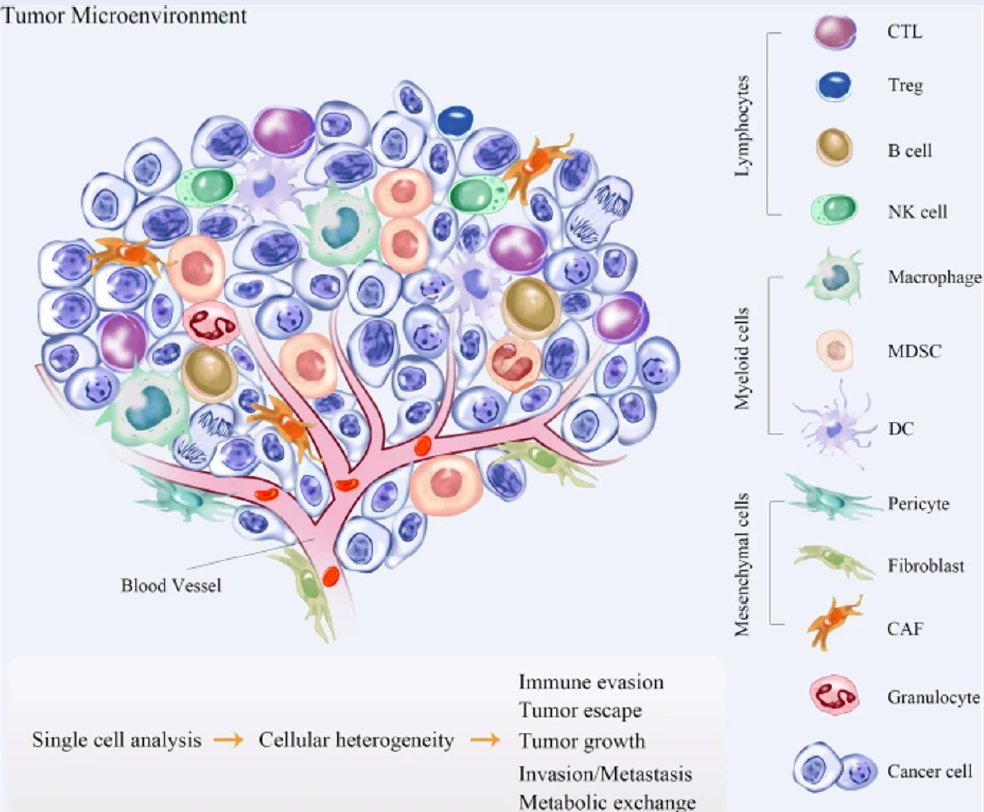 Review
Reprogramming macrophages toward M1-like phenotypes in the breast cancer microenvironment using mesenchymal stromal/stem cells: A review
by Jumat N., R., Yunus M., A., Yahaya B., H., Mohamed R.

Summary: Breast cancer is the most common type of cancer in women worldwide and is the type of cancer with the most frequent high mortality rate for women in 110 countries. Treatment methods offered can have both short- and long-term effects on mobility, function, and quality of life. Improvement in treatment is essential to increase the survival rate and life expectancy. Macrophages in the breast cancer tumor microenvironment (TME) are known as tumor-associated macrophages (TAMs) and are the most common leukocyte population in mammary cancer. TAMs exhibit a phenotype similar to that of M2-like macrophages and secrete a variety of chemokines, cytokines, and growth factors, such as CCL2, CCL18, IL-10, VEGF, and PDGF, which are involved in cancer progression and metastasis and trigger drug resistance during cancer therapies. Hence, high infiltration of TAMs in breast cancer patients is closely associated with a poor clinical prognosis. Mesenchymal stromal/stem cells (MSCs) have been demonstrated by various studies to modulate immunomodulatory responses and reprogramming of TAMs to M1-like macrophages. MSCs skew naĂŻve macrophages to a proinflammatory M1-like polarized state, which can alter the TME landscape. Hence, reprogramming TAMS to an M1-like phenotype with MSCs is a good strategy to enhance commonly used immunotherapies for the improvement of clinical outcomes among cancer patients. This present review discusses the potential of targeting TAMs by reprogramming macrophages using MSCs to increase antitumor responses in breast cancer.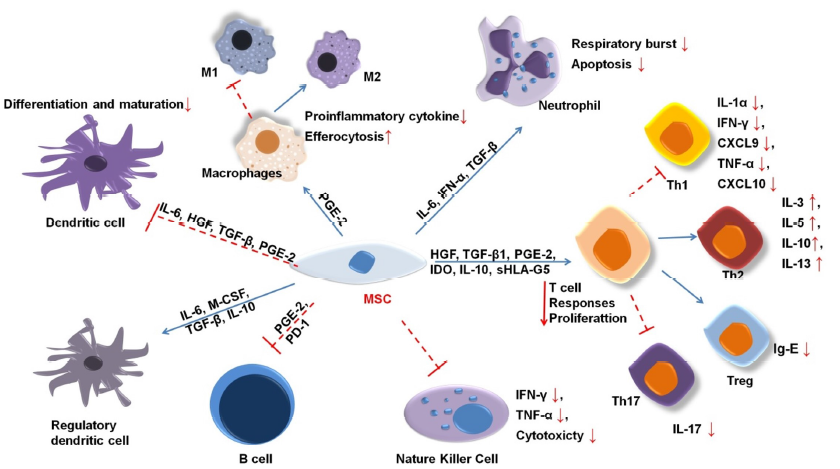 Review
Mesenchymal stem cell therapy for wound healing: An update to 2022
by Huynh P., D., Tran Q., X., Nguyen S., T., Nguyen V., Q., Vu N. B.

Summary: The skin is an organ that performs complex functions of both the innate and adaptive immune systems. It serves as the first physical barrier to protect the body from environmental factors. Skin also carries aesthetic value in people's desire for eternal youth. Skin lesions are often unwanted, causing open wounds that can be contagious or permit infection of the body, scars, skin aging, and loss of skin function, with long-term psychological consequences. The application of stem cell therapy based on mesenchymal stem cells (MSCs) is constantly developing in the field of skin regeneration, which is highly regarded as a therapy for patients suffering skin lesions from burns, deep wounds, cosmetic surgery, or genetic diseases. MSC therapy has shed light on groundbreaking treatments in immune, anti-inflammatory, and regenerative medicine, including for skin diseases. Additionally, the development of stem cells seems to limit skin aging. It is gradually becoming an integral technique at hospitals as a regular therapy for illness, as well as a cosmetic intervention. This review seeks to introduce the skin system and its related disorders; highlight the common characteristics and mechanisms of MSCs; and analyze updated clinical applications and experiments to date in MSC therapy for regenerative biomedicine and skin diseases.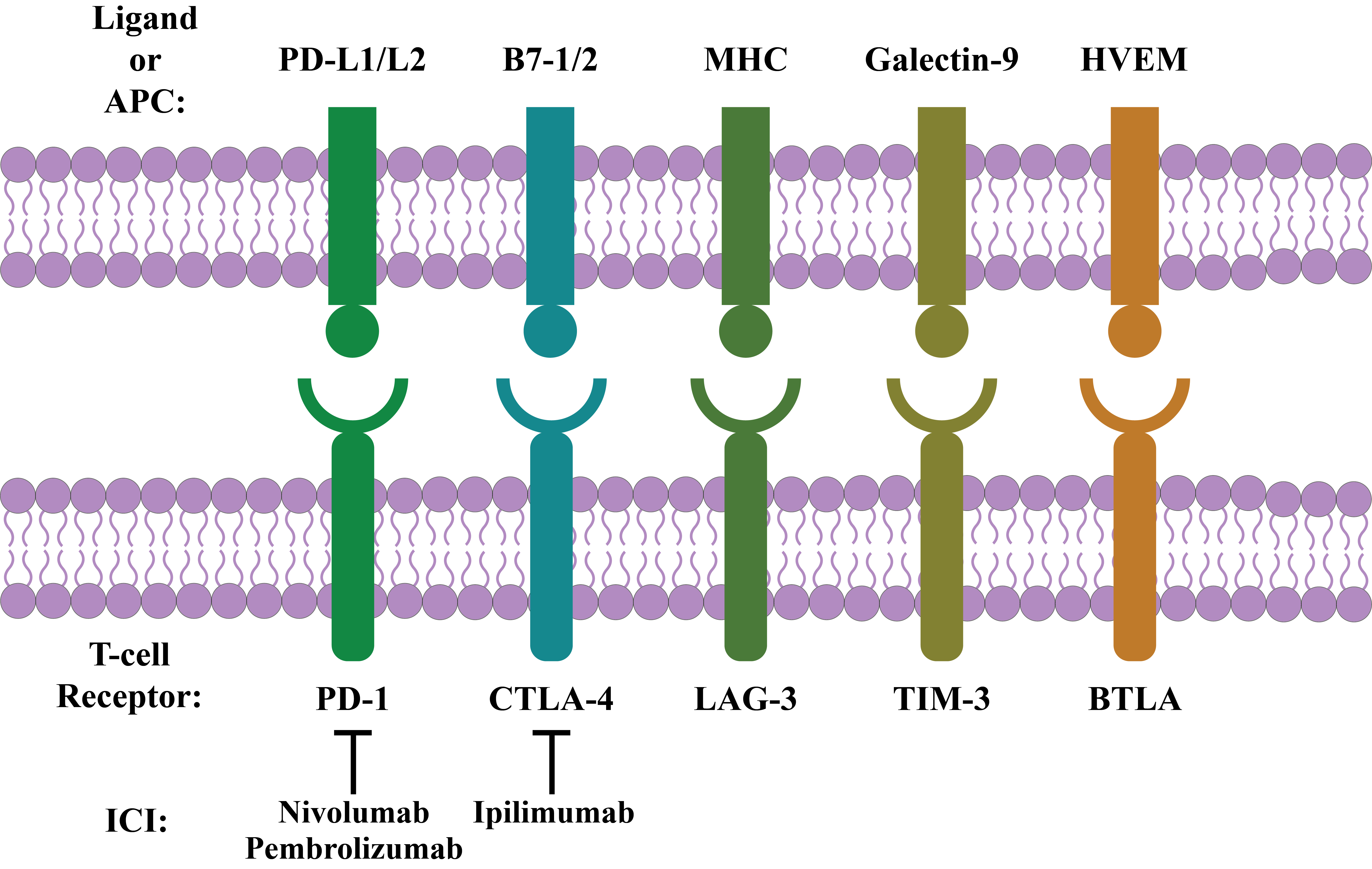 Review
Immune Checkpoint Inhibitor Therapy in Cancer: Success versus Limitations
by Sarder A., Mia M.,. B., Sarkar A., Mandal C.

Summary: The immune system possesses the capability to identify tumor cells and eradicate early malignant tumor cells. Thus, activating the immune system of cancer patients provides great therapeutic benefits. Inhibitory T-cell immune checkpoints play a vital role in tumor immune escape. Thus, immune checkpoint inhibitors (ICIs) have attracted attention in cancer immunotherapy. In ICI therapy, the therapeutic targets are the expressed immune checkpoints of T cells. Immune checkpoints induce T-cell dysfunction in cancer. However, ICIs or immunomodulators restore the antitumor actions of cytotoxic T cells by blocking immune checkpoints. ICIs have become desirable treatment options because of their broad range of activities and response rates ranging from 15% to 90% in several cancer types. Generally, ICIs also have favorable toxicity profiles. This paper will first delve deeper into the best-known immune checkpoints and then review ICIs that are attractive treatment options in immunotherapy.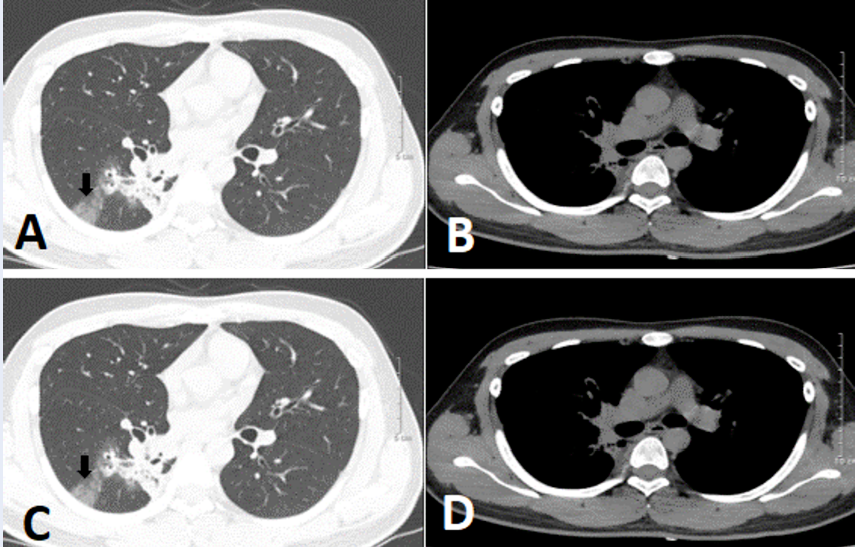 Case report
Case report of recurrent respiratory papillomatosis
by Dung L., V., Cuong N., N., Hien M., M., Linh L., T., Luu D., T., My T.,-T., T., Duc N. M.

Summary: Recurrent respiratory papillomatosis is a chronic disease caused by the human papillomavirus and can affect both children and adults. Although it is a benign disease, papilloma growth can cause severe, sometimes life-threatening airway obstruction. We report the case of a 28-year-old male patient who was admitted to the hospital with a fever and prolonged cough. A computed tomography (CT) scan showed solid and cavitated nodules in his right lung and solid nodules on his vocal cords. Bronchoscopy demonstrated polypoid lesions on his vocal cords. Histopathological study of the lesions confirmed a diagnosis of respiratory papillomatosis.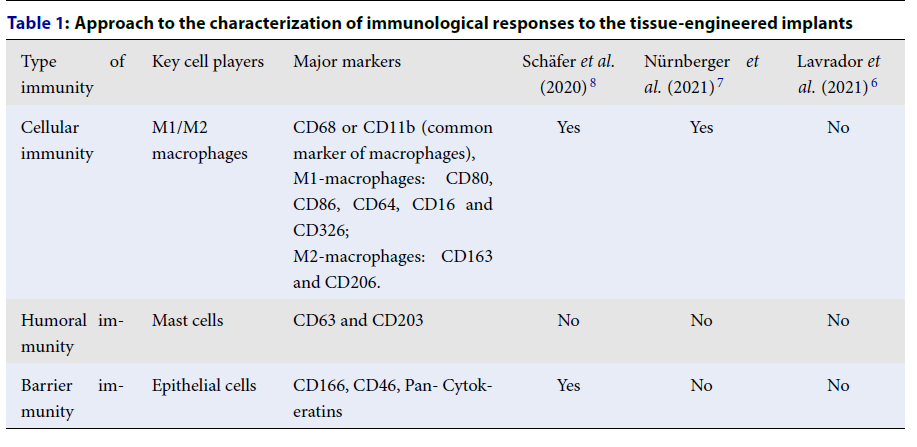 Commentary
Assessment of Immunological Responses - A Novel Challenge in Tissue Engineering and Regenerative Medicine
by Shestakova V., Klabukov I., Baranovskii D., Shegay P., Kaprin A.

Summary: The number of articles on tissue engineering and regenerative medicine has increased dramatically in the last decade; however, the number of clinically implemented techniques remains small. Possible reasons include insufficient investigation of immune reactions on implanted tissue-engineered grafts and cells or a lack of consensus regarding which immunological tests must be performed to evaluate immunological responses. To provide an example of insufficiency in the assessment of immunological reactions, we analyzed three papers published between 2020 and 2021 and discussed the possibility of creating a standardized assay palette for the assessment of immunological responses in different types of implants.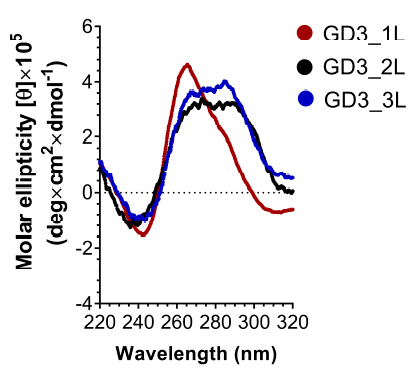 Original Research
Influence of loop permutation on immunostimulatory activities of CpG oligodeoxynucleotides forming monomeric guanine-quadruplex structures
by Tu A., T., T., Hoshi K., Yamazaki T.

Summary: Existing research establishes the role of oligodeoxynucleotides (ODNs) containing cytosine-phosphate-guanine motifs (CpG ODNs) as adjuvants to vaccines against infectious diseases. However, the natural structure of ODN with phosphodiester (PD) linkages is prone to degradation by serum DNase, which limits the application of CpG ODNs. We recently engineered a monomeric guanine-quadruplex (G4)-structured CpG ODN (G4 CpG ODN) and determined that the monomeric G4 increased the DNase resistance, intracellular uptake, and cytokine induction of CpG ODN in vitro and in vivo. However, the effect of the primary sequence on G4 conformation and function of G4 CpG ODN is unclear.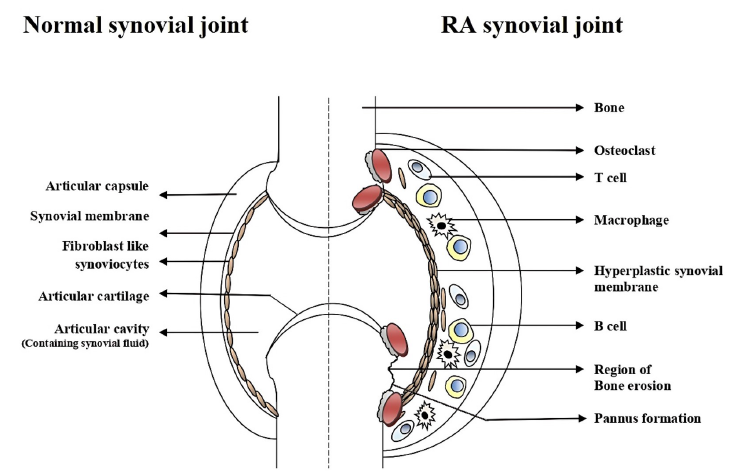 Review
A review of fibroblast-like synoviocytes in the pathogenesis of Rheumatoid arthritis: Their activation and the inhibition of their apoptosis
by Modak D., Bhattacharjee S.

Summary: Rheumatoid Arthritis (RA) is a systemic, autoimmune, inflammatory disease characterized by synovial hyperplasia, inflammatory cell infiltration in the synovial tissues, and progressive destruction of cartilage and bones. This disease often leads to chronic disability. More recently, activation of synovial fibroblasts (SFs) has been linked to innate immune responses and several cellular signalingpathways that ultimately result in the aggressive and invasive stages of RA. SFs are the major sources of pro-inflammatory cytokines in RA synovium. They participate in maintaining the inflammatory state that leads to synovial hyperplasia and angiogenesis in the inflamed synovium. The altered apoptotic response of synovial and inflammatory cells has been connected to these alterations of inflamed synovium. RA synovial fibroblasts (RASFs) have the ability to inhibit several apoptotic proteins that cause their abnormal proliferation. This proliferation leads to synovial hyperplasia. Apoptotic pathway proteins have thus been identified as possible targets for modifying the pathophysiology of RA. This review summarizes current knowledge of SF activation and its roles in the inhibition of apoptosis in the synovium, which is involved in joint damage during the effector phase of RA development.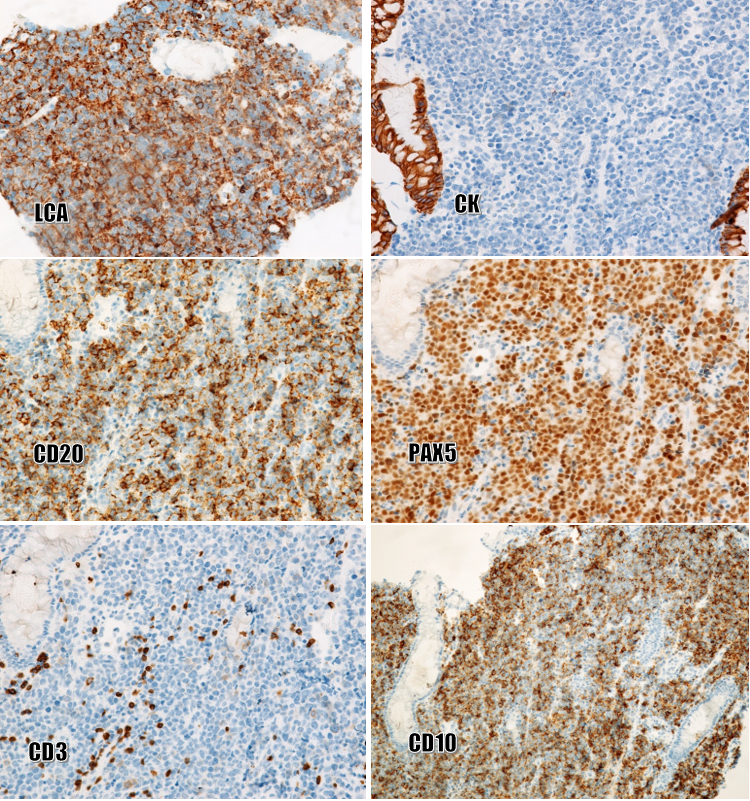 Case report
Simultaneous detection of 3 cancer foci with histological heterogeneity at 3 different anatomical sites: is it a consequence of the phenotypic plasticity of tumor cells?
by Hung N., Dat P.,ạm Thanh N., Minh T., Huong N., Luan D., Mai H.

Summary: The simultaneous (synchronous) detection of 3 primary tumors is rare in clinical practice. Recognizing and differentiating metastatic malignancies have always been challenging for clinicians and pathologists; however, treatment outcomes and prognoses highly depend on this recognition. Here, we used immunostaining and a new approach that, to our knowledge, few people know about based on an understanding of exosomal microRNAs (miRNAs), phenotypic plasticity, and the tumor microenvironment to reach a final diagnosis of multiple primary neoplasms.
Editors' quote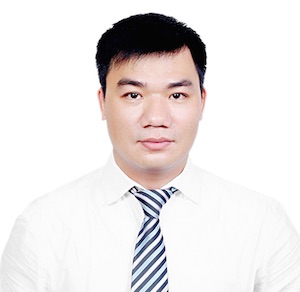 Phuc Van Pham, Editor-in-Chief
Biomedical Science is an important scientific field that directly effects to diagnosis, treatment and prevention of diseases. The journal provides an important avenue of publication in translational aspects of biomedical research and therapy spanning from in vitro to preclinical studies, clinical research and commercialization.
Affiliation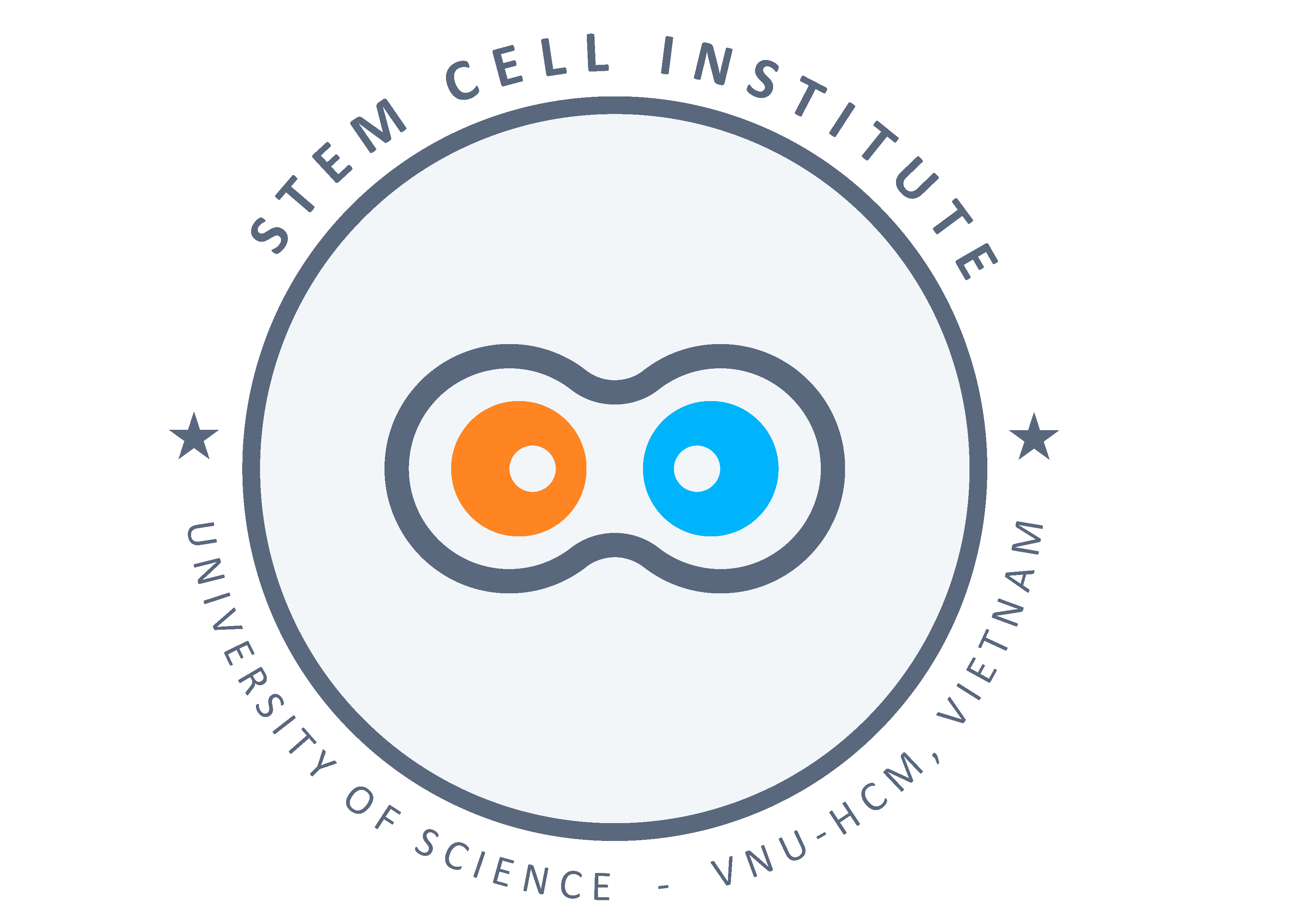 Biomedical Research and Therapy (ISSN 2198-4093) is the official journal of Stem Cell Institute, University of Science, VNUHCM, Ho Chi Minh city, Vietnam.
Why publish with Biomedical Research and Therapy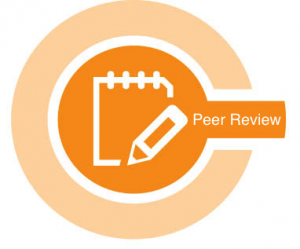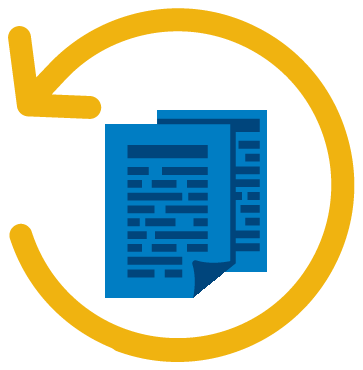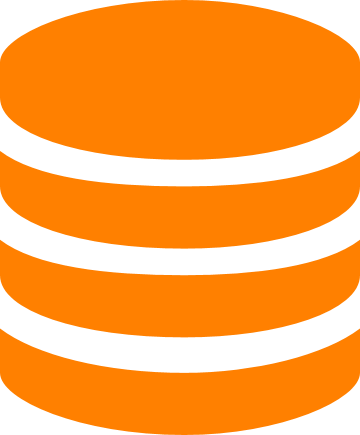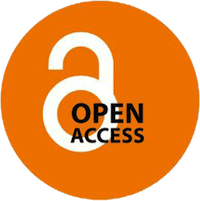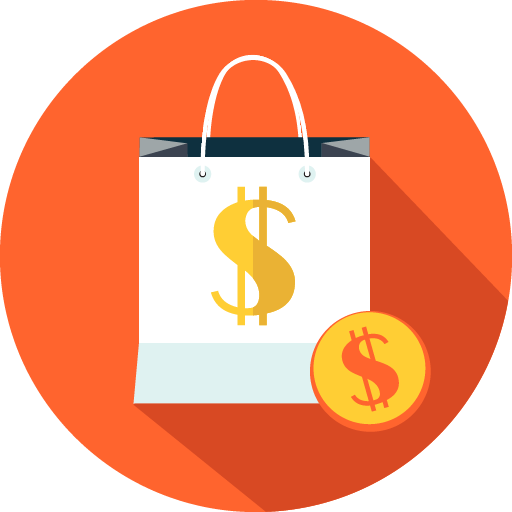 Updates
2021-09-07
Biomedical Research and Therapy seeks applications from enthusiastic researchers and scholars who can oversee and maintain the editorial direction of the journal to ensure a steady flow of engaging and thought-provoking original research publications.
More Updates